Vegetation changes across the landscape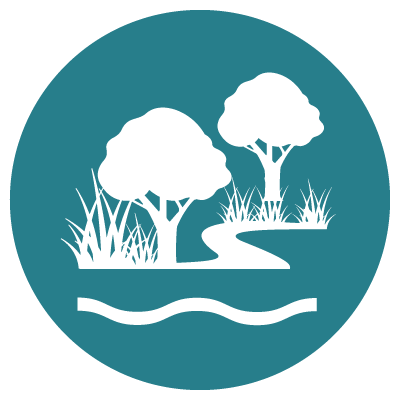 Vegetation found along waterways varies greatly across the region depending on location and land use.  Generally, most catchments still have some forested headwaters that have areas of high-quality vegetation. However, clearing for agriculture and urban development has left the majority of the catchments with narrow, fragmented corridors of native vegetation.
Weeds such as willow and blackberry are an ongoing issue along rivers and creeks.
Vegetation supports waterway values such as birds,  platypus, and fish  through: 
bank stabilisation and erosion control  
improving water quality through filtering of nutrients and pollutants
shading and regulating water temperature 
provision of habitat, shelter and connectivity for wildlife
provision of organic matter, fundamental in the food chain of waterway ecosystems.
Vegetation is both a value and a condition in the strategy. As a value, vegetation has targets based on measures of intrinsic value. As a condition, vegetation is measured for the services it provides to other values, such as habitat to support environmental values and urban cooling to support social values.
Values impacted by vegetation condition
The quality and extent of vegetation along waterways influences all the environmental values. Vegetation provides habitat along and within waterways. It helps cool air and water temperatures, filters nutrient runoff from surrounding land, supports bank stability, provides protection from predators and is a direct and indirect source of food. Wide vegetated corridors around waterways are best for maintaining and improving waterway values.
Vegetation along urban waterways helps to cool temperatures generated by a heat island effect and provides places for people to gather and recreate. However, vegetation and the way it is managed influences social values in different ways depending on individual preferences. The same vegetated waterway can provide a sense of naturalness for some and a sense of unease for others if they fear snakes are hiding in the bushes. Vegetation can screen views of the built form, but also prevent views of the water. Vegetation can cool temperatures for those running along waterways, but impact a sense of safety for some by reducing clear sightlines around bends.
Measuring vegetation condition
The assessment of vegetation conditions for rivers, wetlands and estuaries includes separate, interconnected measures for the quality and extent of vegetation.
Vegetation quality is a measure of the naturalness and diversity of plants, the weediness and the structure – i.e., presence of overstorey, mid-storey and understorey plants. The assessment of quality for the strategy development process was based on field surveys and expert knowledge.
Improved field surveys will provide better data for assessing vegetation quality across the region over time. Aspects of the Index of Wetland Condition will be used to assess wetland vegetation and a new field survey method for the Vegetation Visions data will be used for rivers.
An emerging and complementary method for monitoring vegetation condition over time using satellite imagery is being investigated in a research project with RMIT University. If successful this will enable vegetation condition to be monitored accurately at a broad scale and will improve the overall assessment of vegetation across the region.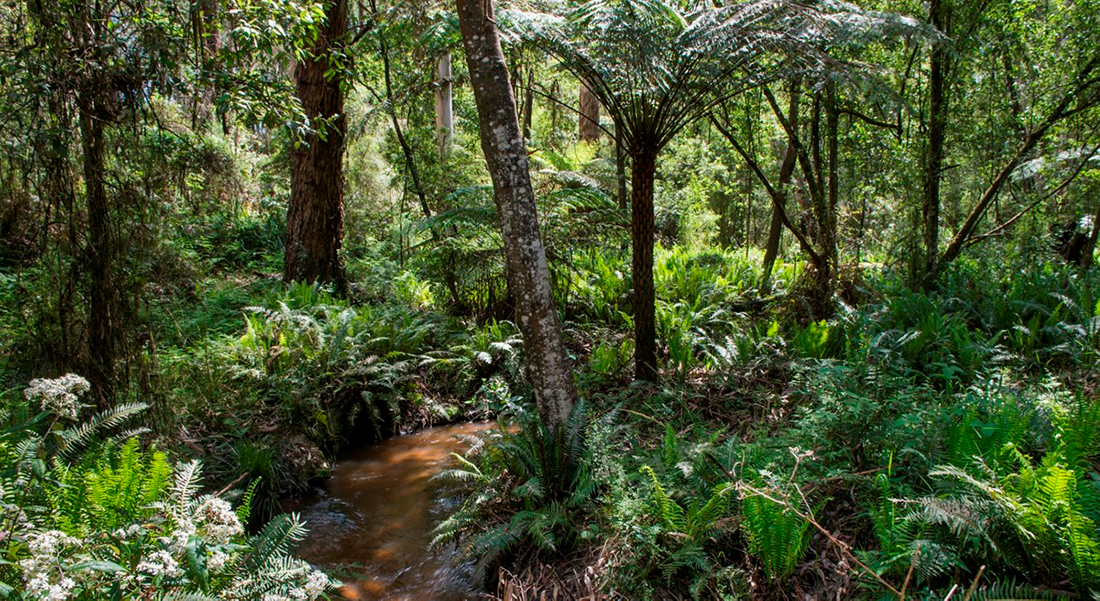 Vegetation extent is a measure of the extent that waterway corridors are covered with a canopy of vegetation and the extent wetlands are surrounded by vegetation. Vegetation buffers around wetlands are important for habitat. Buffers around rivers need to be a minimum of 20m wide and continuous to support and enhance key environmental values. The assessment of extent is based on aerial photography, LiDAR data and site assessments.
Vegetation data and will be used during the mid-term and final evaluation of the strategy to understand spatial and temporal trends of vegetation health across the region.
Vegetation condition baseline and targets
Vegetation quality
2018 baseline: The condition of vegetation quality for rivers was based on Melbourne Water's Vegetation Visions baseline from 2018. For wetlands, the vegetation quality baseline was developed with a combination of site visits and aerial photography analyses. Baseline estuary vegetation quality was not explicitly determined due to lack of available data.
2068 target: For rivers, the targets represent what can be achieved with a coordinated, collaborative and prioritised effort to protect all high and very high-quality areas and improve other priority areas to at least a moderate level.
For wetlands, the targets are based on the assumptions that vegetation on alluvial plains can be improved to moderate/high with actions to improve the water regime, reduce invasive plants and increase wetland buffers. On the basalt plains, vegetation quality can be maintained or improved depending on whether the sites can receive environmental water and the extent of buffer improvement required.
An improved understanding of estuary vegetation quality and weed threat will be developed over the life of the strategy so that a long-term target can be established.
Without continued investment in enhancing and maintaining riverine and wetland vegetation quality weed spread and vegetation loss will continue and vegetation quality will decline.
Number of waterways in each catchment by vegetation quality score
Scoring categories:   Very low   Low   Moderate   High   Very high   Not applicable
Hover, click or tap (on mobile) the charts below to view more information.
Baseline and trajectories in Rivers
Vegetation extent
2018 baseline: The condition of vegetation extent for rivers was based on LiDAR assessment of existing gaps in canopy cover within 30m of the waterway, while for wetlands it was based on a mixture of aerial photography and site assessments.
2068 target: The targets represent what can be achieved with a coordinated, collaborative and prioritised effort to create vegetated buffers along rivers and around wetlands, in line with the level of investment over the past 15 years.
The target assumes that with a coordinated, collaborative and prioritised effort estuarine vegetation in rural areas can improve under the assumption that estuarine vegetation will be able to migrate further in the landscape as sea level rises. However, estuarine connectivity will decline for those estuaries in current or future urban areas reflecting the inability of estuaries to migrate in a constricted landscape. Some urban estuaries were allocated higher targets if migration into the landscape was deemed possible e.g., close proximity of public or recreational land.
Without continued investment in enhancing and maintaining vegetation the vegetation extent for rivers, estuaries and vegetated buffers for wetlands are expected to decline as the impacts of climate change and urbanisation continues.
Number of waterways in each catchment by vegetation extent score
Scoring categories:   Very low   Low   Moderate   High   Very high   Not applicable
Hover, click or tap (on mobile) the charts below to view more information.
Baseline and trajectories in Rivers
Vegetation takes time to respond to the changes that are brought about by achieving the performance objectives. It may not be possible to detect improvements to the vegetation quality and extent over the 10-year timeframe of the strategy. However, evaluation and reporting of vegetation data will inform progress at mid-term and towards the end of the Healthy Waterways Strategy. 
Maps have been produced to show the vegetation extent and vegetation quality  for the 2018 baseline and the long-term targets for each sub-catchment.  A map of the vegetation performance objectives is also available. For more information on the future monitoring program rationale see the Monitoring and Evaluation Plan for Rivers, Wetlands and Estuaries. 
Actions to improve vegetation
There are a range of on-ground actions and policy initiatives that will enhance vegetation management to protect and improve waterways.
Protect and improve high-quality vegetation
Regular monitoring and management of threats, such as weeds and pests, is essential to protect high-quality vegetation. Mapping all the areas of vegetation in this category, including the protection of endangered Ecological Vegetation Classes (EVCs) is required to adequately understand the surveillance requirements. 
Where vegetation buffers are being established, the aim is to improve vegetation quality by achieving an intact middle and upper storey, i.e. Vegetation Vision level 3 moderate quality.
In the Strategy, actions to manage weed and pest animal threats in high-value forested areas will deliver the most effective outcome to protect this vegetation.
Watch: Protecting Watts River
Increase vegetation extent 
Increasing vegetation extent includes establishing continuous vegetation along priority waterway reaches and estuaries. Protecting, improving, and/or creating wetland habitat may also include securing land for habitat creation. Identifying opportunities for habitat creation and migration can help to mitigate habitat loss due to climate change risks.
In the Strategy, this includes actions to increase vegetation extent in priority waterways, increasing buffers around wetlands, and improving social values through increasing vegetation cover in existing and planned urban areas. 
Management of pest animals and weeds
Unmanaged weeds can out-compete vegetation for water and sunlight.  Control of invasive weeds such as willows and in wetlands, weeds are often symptoms of altered water regimes or nutrient enrichment. Pest animals such as deer and rabbits are key threats to river and wetland vegetation that require active management.
In the strategy, pest animal control adopts a risk-based approach to prevent, eradicate and contain pest plants and animals including woody weeds, deer and rabbits to protect vegetation in priority areas. 
Manage the waterway form
Protecting and enhancing the form of the waterway for vegetation includes investigating and mitigating threats such as erosion (caused by urbanisation and stock access) and direct modifications to the waterway such as straightening or concrete lining.  Attainment of the stormwater targets, which require runoff from impervious surfaces to be better managed, will also assist in preventing adverse impacts to the stream form in developing areas.  
In the Strategy, actions such as controlling erosion through the construction and maintenance of structures like rock chutes and fencing to restrict grazing along riparian zones will help maintain waterway form.
Manage water for the environment
Overbank flows and wetland inundation benefit many plants growing in wetlands, riparian zones and on floodplains. However, inundation must occur at the appropriate time of year and for the appropriate duration - long enough to have a benefit but not so long as to not drown-out plants.  Freshes, or pulsing flows, also have a positive effect on the condition of native aquatic and riparian vegetation through moving areas of sedimentation, rewetting benches and improving water quality. Preservation of base flows are critical to maintain growing conditions for aquatic and riparian vegetation. 
In the Strategy, actions include maintain or improve flow regimes in unregulated systems and looking for opportunities to increase environmental water reserves in regulated systems. This includes identifying and implementing opportunities to reduce threats of summer low flow stress.
Improve water quality
Improving water quality can prevent sediments smothering aquatic vegetation and seagrass, and overgrowth of aquatic and riparian weeds.
The strategy includes actions to improve water quality by reducing turbidity and sediment run-off through managing urban development and rural land practices.