Improving fish passage in Dandenong Creek
A new fishway has been built to support native fish to swim more freely between Port Phillip Bay and the waterways of the Dandenong Creek catchment.
Maintaining in-stream connectivity is critical for fish
Some of our native fish species migrate between fresh water and the sea to spawn, feed and disperse. Stream connectivity and habitat diversity are critical components of healthy rivers and creeks and fish require free movement along the length of rivers and streams and between estuarine and freshwater environments.  
Impeding fish passage through the construction of dams, weirs, floodgates and waterway crossings can negatively impact native fish by interrupting spawning or seasonal migrations, restricting access to preferred habitat, increasing susceptibility to predation and fragmenting continuous communities.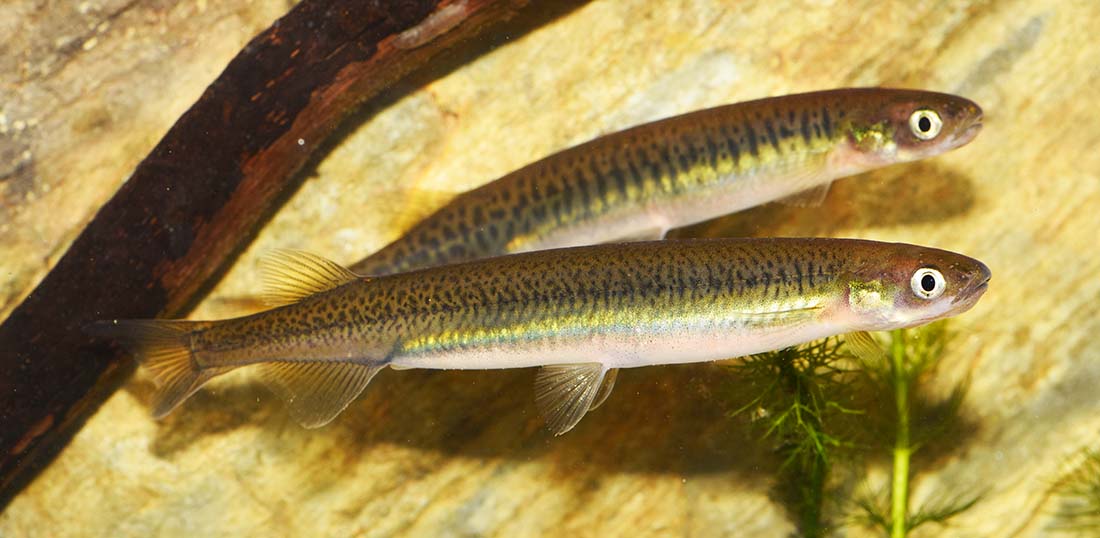 In-stream fish barriers at Pillars Crossing
In 1986 a weir and flow control structure was built in Dandenong Creek at Pillars Crossing, at the junction of Dandenong and Mordialloc Creek, to raise the level of water upstream and regulate flow. In 2008, fishways were constructed to allow migrating fish to bypass the weir, however these structures are now considered ineffective under most operational conditions. Native fish, which were once abundant in Dandenong Creek, have been impacted by in-stream structures such as these, becoming restricted in numbers or locally extinct.  Changes in land use, invasive aquatic plants such as Alligator weed, predation by pest fish, and habitat loss, have also impacted native fish populations in this area.
A new fishway is required
In 2004, investigations found that building fishways would open up more than 180 km of fish habitat in the Dandenong Creek catchment and greatly benefit the distribution of native migratory fish. Four fish barriers were identified that either restricted or prevented fish passage. The weir and flow control structure at the Dandenong and Mordialloc Creek junction is the most downstream barrier and therefore the one that needed to be addressed first.
In January 2021, Melbourne Water commenced construction to replace the old fishway at Pillars Crossing with a new one. The purpose of the new fishway is to enable free passage of the native migratory fish community in the lower reaches of Dandenong Creek, which flows into the Patterson River and into Port Phillip Bay. The project includes installation of a cone fishway to bypass the weir and installation of a downstream random rock fishway to raise the water at the fishway entrance.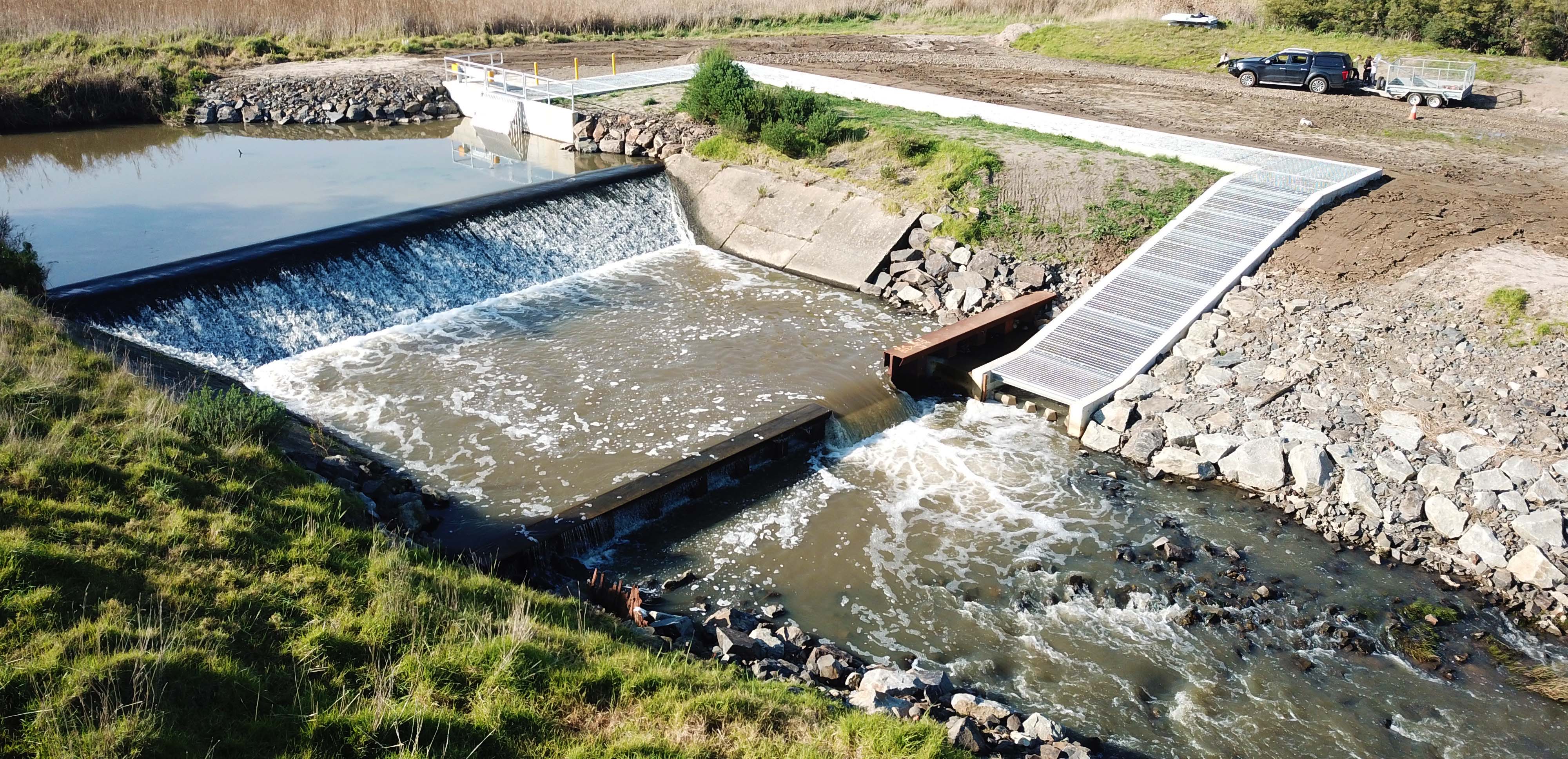 "This is a very exciting project that we anticipate will increase the abundance of native fish populations moving through the Dandenong Creek catchment. The completed fishway will enable native fish species to freely move between Port Phillip Bay and the lower Dandenong Creek to spawn and complete their life cycles. The Australian Grayling is 'threatened' under the Flora and Fauna Guarantee Act 1988. It relies on brackish water when hatching as new larvae and then freshwater for the majority of its lifespan. This is just one example of species we are hoping to see thrive in future years."

Patrick McCluskey, Melbourne Water
Construction
Cone fishways, a new type of fishway, were developed in Australia to function during common low flows but also to be flexible enough to discharge more water and continue operation during flow events.  The fishway does this by including a unique 'cone' geometry within the pre-cast concrete baffles which are particularly suited for passage of very small fish (from 20 mm long) through to larger sizes (i.e., 1000 mm long eels). 
The new cone fishway was completed in April 2022 and provides fish with the ability to ascend about 2.2 m around the Pillars Crossing Weir.  
Additionally, a 0.5 m high rock fishway was constructed downstream to optimise conditions for the approach to the cone fishway.  
The whole fish passage solution also included creation of a permanent pool below the Pillars Crossing fishway so that downstream migrating fish could descend into deep water for safe passage back to the sea. 
There were many challenges to overcome at Pillars Crossing, including a deeply incised straightened river channel, a work site that was highly flood prone and marrying the rock and cone fishways into one integrated fish passage solution. These challenges were resolved by pre-casting many of the concrete fishway components to speed up the construction process and basing the fishway design on the local hydrology and fish ecology. 
Are fish moving upstream?
To assess the functionality of the new cone fishway for passage of small-bodied fish, and since most important fish migrations occur in Spring and early Summer, monitoring was scheduled between September and December 2021.  The three month timeframe enables time for a broad suite of fish to arrive at the site and a variety of river flow conditions to move through the fishway. The fish monitoring consists of sampling at the top and bottom of the fishway to see which fish are accessing and using the structure. 
Exciting early monitoring results from November 2021 indicate that the cone fishway is already helping fish to move upstream. Fish caught above the fishway include Common Galaxias, Spotted Galaxias, Lamprey and surprisingly, nine juvenile Australian Grayling! Australian Grayling are listed as vulnerable under the Environmental Protection and Biodiversity Conservation Act (EPBC Act), so this is very encouraging news. It's believed the last record of this species in the Dandenong Creek system was almost 40 years ago!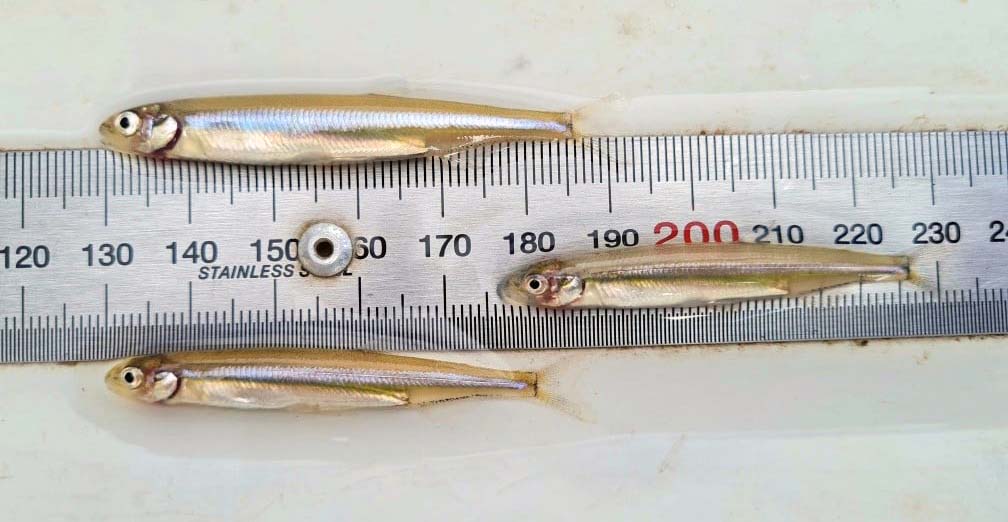 Ecology Australia will undertake further fish monitoring in 2022 and early 2023. The results will help us understand the overall effectiveness of the new fishway and whether there has been any redistribution of species following the fishway construction.  
WATCH: Time lapse video of fishway construction
Credit: Spotlight Productions
The success of the Pillars Crossing fishway construction was based on a strong collaboration between Melbourne Water, Greenworks, Alluvium Consulting, Ecology Australia and the Arthur Rylah Institute. 
Links to the Healthy Waterways Strategy – Dandenong catchment
This project supports the performance objectives in the Healthy Waterways Strategy by providing habitat connectivity for fish along major waterways through improving fish passage at Pillars Crossing in the Dandenong Creek Lower sub-catchment.